Homeowners led by Rob Lowe

NEWS-PRESS STAFF WRITER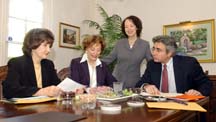 What do you get when you inject money and celebrity into Santa Barbara County's bitter battles over long-term growth?
For the handful of wealthy and well-connected Montecito residents who make up the Homeowners' Defense Fund, the answer is simple: a protector of neighborhoods with enough clout to take on the state.
Armed with a list of rich and famous supporters -- the group's president is actor Rob Lowe -- the organization aims to combat what it calls arbitrary planning decisions in the county that increase density and traffic without community consent.
To their critics, the homeowners are fueling opposition to development and ignoring the housing needs of low- and middle-income residents.
While the group is one of many across the state and country fearful of unrestrained growth in their neighborhoods, it is one of the first to set its sights -- and checkbook -- beyond the local level.
In addition to joining provincial frays at the Planning Commission and Board of Supervisors, the group vows to take on the state -- and file suit if necessary -- to stop unwanted growth.
"We are looking to represent the homeowning constituency in Santa Barbara County," said first vice president Sally Jordan, who described the group and its board of seven as a countywide grass-roots effort. Although most board members reside in Montecito, the group's North County liaison, veterinarian and property rights activist Doug Herthel, lives in the Santa Ynez Valley.
Members insist the group isn't cashing in on its celebrity roster by, for example, making Mr. Lowe its president.
"It's not a title in name only," said second vice president Robert Collector.
Mr. Lowe, who starred on the NBC TV show "The West Wing," did not attend the group's interview with the News-Press or return multiple requests for comment.
Group members declined to provide figures, but have called a success their inaugural fund-raiser in January, a $1,000-per-person cocktail party in Montecito with a host committee that included celebrities Carol Burnett, Bo Derek and Tab Hunter. Nor would members disclose the number of attendees.
Neighborhood groups praised the fund as a "godsend" in the war against rampant growth and the county's failure to update community plans more frequently. Community plans are master growth documents that map an area's housing and transportation needs following extensive community input.
All five county supervisors said they endorse the homeowner group's desire to maintain local control, and defended its right to participate in government.
"I support their concerns," said 2nd District Supervisor Susan Rose, who has been criticized by Goleta residents -- including members of the slow-growth Coalition for Sensible Planning -- for her positions on new development.
Critics are somewhat skeptical, and in some cases hostile, about the group's motives.
Some call the homeowners "NIMBYs," a pejorative for those who support new housing and higher densities in other areas, but "Not In My Back Yard."
Others have worse names.
Entering a highly polarized debate in a place where many middle class homes cost more than $1 million, the group faces local opposition from the poor and residents who don't own homes, builders and business groups -- an unlikely coalition that seeks to increase the county's housing stock.
Some accuse the group of ignoring a regional housing crisis that is squeezing poor and middle-class residents from the area.
They say workers can't afford to live near their jobs, and employers struggle to find qualified staff -- from Goleta technology workers to teachers, nurses and sheriff's deputies.
"It's impossible to recruit people to come here," said Santa Barbara County Taxpayers Association Executive Director Joe Armendariz, who is also a Carpinteria city councilman. He argued that the planning process is already too transparent, and therefore easy to obstruct.
Some say the group is ignoring the needs of non-homeowners.
"Their interests seem to coincide with forcing out the middle class, the people who work here," said Miriam "Mickey" Flacks, who serves on the county's Housing Authority Commission.
On the state level, the homeowners' opposition could be even more daunting.
Legislators from both main parties and Gov. Arnold Schwarzenegger have suggested they may join forces to ease local restrictions that often block or downscale new projects. The threats of state intervention have increased as opposition to new development grows across California.
Well aware of the rumblings, the homeowners say they will network with like-minded groups throughout the state and fight lawmakers on their own turf. They also plan to hire a lobbyist.
"We don't really have anyone at the local level with their eye on Sacramento," said spokeswoman Sue Burrows.
Asked if Mr. Lowe's friendship with the governor could help the group achieve its goals, members said the actor had no plans to use his connection to the state's highest office. In 2003 Mr. Lowe, a Democrat, crossed party lines to support the Republican actor's bid for governor.
Cliff Berg, the county's lobbyist in Sacramento, said the group's money and celebrity could make a difference -- they certainly did for the governor.
However, attracting media attention is not enough, he said.
"It depends on how well they articulate the issue."
On the local level, the homeowner group will issue grants to organizations like Coalition for Sensible Planning, which has expended thousands to fight an array of county programs involving new growth. The group has consulted with land-use planners and attorneys such as Barry Cappello.
While the coalition has achieved modest fund raising, its members -- who last year distributed 9,000 fliers featuring an image of 2nd District Supervisor Susan Rose driving a tractor -- noted that the homeowner group has access to much deeper pockets.
"The more money you have the more effective you can be," said Coalition president Gary Earle., who called the fund a "godsend."
Rejecting the NIMBY label, homeowner group members say they support new housing and higher density under certain conditions.
"We are in favor of growth as long as it is (consistent with) community plans," said Ms. Jordan.
Members first joined forces after battling a county plan to install affordable homes at the corner of San Ysidro Road and San Leandro Lane in Montecito -- a project they said the area could not sustain.
Apart from its servant quarters and guest cottages, the wealthy enclave is traditionally one of the smaller contributors to the county's supply of affordable housing.
While the county dropped the plan, similar confrontations may erupt later this year when officials zone for additional housing under a state-mandated growth policy known as the 2003-08 Housing Element.
Members acknowledge the region faces challenges in housing its work force, but questioned using emotionally charged terms like "crisis" to justify poor solutions.
"Let's try to define problems before we create solutions," Mr. Collector said.
Growth advocates warned that granting community plans to each area would create a "free for all," in which residents would push housing projects out of their area.
"These people don't look at a community plan as a document to plan for growth," said Andy Caldwell, executive director of the Coalition of Labor, Agriculture and Business. "They look at (it) as a document to forestall growth."
Calling the homeowners "elitists," Mr. Caldwell said the group was simply ignoring the economic realities of the region's workforce.
"Montecito's income is not dependent on the local economy. They have no problem if the county becomes a Monterey or Carmel, i.e. a bedroom community for the rich," said Mr. Caldwell, who questioned whether Mr. Lowe's hired help could afford to buy homes in the area.
In dealing with the housing situation, Mr. Caldwell asserted that citizens have three options -- accept either new density, sprawl or fight the state mandate.
In their defense, the homeowners pledge to assist the area meet its housing needs.
"If the county can't attract doctors and nurses .Ê.Ê. our group will work like mad to alleviate that," said Secretary Judith Ishkanian, a former part-time columnist for the News-Press.
With the housing element meetings set for April, some advised the group to tone down its rhetoric on display in a recent News-Press opinion piece, and work with other players in what will likely be a difficult session.
"We need more power brokers to step above the fray," said David Fortson, executive director of the Santa Barbara County Action Network, a group that seeks more affordable housing, but also supports local control and environment-friendly development.
Saying the county's housing problem had no simple solution, Mr. Fortson said the group should use its vast resources to build bridges instead of putting up walls.
"(The homeowners) could play a really positive role if they choose to."
While the group has not finalized its game plan for upcoming debates, members zealously defended their right to protect the community's role in approving new growth. They even suggested they had a patriotic duty to share their opinions with officials and the public.
"It's our fault if we don't tell them," Ms. Ishkanian said.